Fracking Siberia: Gazprom Teams Up With Shell
Image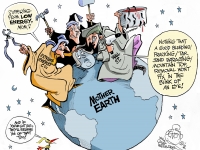 Gazprom of Russia has begun fracking in western Siberia with the help of Anglo-Dutch giant Shell. The joint venture is introducing new technology developed in the U.S. to tap a vast reserve of oil known as the Bazhenov shale that lies under a 2.3 million square kilometer expanse.

The new joint venture is named Salym Development Corporation after the southern town of Salym where Gazprom drilled its first well in January.

Russian oil companies have drilled for oil in the area for 20 years but foreign companies have stayed away because of the high export and mineral taxes. These barriers are now coming down as Russia wants to take advantage of horizontal fracking technology to gain access to hitherto unprofitable fossil fuel deposits - last July the parliament eliminated mineral taxes for operations in four major shale fields over the next 15 years.

Gazprom is not the only Russian company to invite in foreign partners - Rosneft has struck a deal with Exxon is also expected to begin drilling later this year. Rosneft has also signed a deal with Statoil of Norway to explore the Domanik shale on the Kazakh-Russian border.

"If Russia is able to successfully plumb its Siberian depths for shale oil and gas, it could leverage its energy holdings towards its ambition of becoming a great power once again," Walter Russell Mead, a fellow at the Council on Foreign Relations, told the Washington Times.

New fracking techniques allows companies to not just dig deep but also sideways and extract oil and gas by pumping in millions of gallons of water, sand and hazardous chemicals to break open rock formations under high pressure.

Such technology has created an oil boom in North Dakota where the night sky is dotted by hundreds of giant flares created by tapping gas reserves in the Bakken shale. Bakken is one of the biggest operations in the Americas with an estimated 4.3 billion barrels of recoverable oil but it pales in comparison to the Bazhenov shale, which is estimated to have between 22 and 360 billion barrels of recoverable oil. http://www.corpwatch.org/article.php?id=15713

Fracking has generated a huge backlash in North America as well as Europe where communities have been up in arms over the impact on drinking water as well as the potential for small earthquakes. (see "Frackademia: How the Fracking Industry Tries To Bully Or Buy Scientists" for a more detailed explanation of the impact of fracking)

This is where Siberia has an advantage, notes Charles Kennedy of OilPrice.com, because it has "a lot of sparsely populated space in which to drill without public backlash."

Ironically Russia Today, a state run television station, has been actively broadcasting protests against the fracking industry in Europe, where companies like Chevron have been aggressively trying to get a toehold in countries like Bulgaria, Poland and Romania.

"It is no coincidence that Russian officials are warning of the 'dangers' of hydraulic fracturing, even though they support it at home," writes Keith Smith, a former U.S. ambassador to Lithuania who is pro-fracking. "For one thing, Russia charges Central Europeans at least 50 percent more for gas exports than it does in many Western European markets. It is not by accident that the Nord Stream and South Stream pipelines were designed to by-pass Central European countries that pay the most for Russian gas."

These high costs have caused other former Soviet countries to jump on the shale bandwagon. Recently Shell was awarded the Yuzivska concession in eastern Ukraine while Chevron was given the Olesska concession near Ukraine's border with Poland.

Alas the deals came too late to save Ukrainian President Viktor Yanukovich who signed deals with the two companies three months ago. He had hoped that the agreements would allow Ukraine "to have full sufficiency in gas by 2020 and, under an optimistic scenario, even enable us to export energy" but was ousted earlier this month after negotiating an agreement with Russia to pay for gas imports.