Fossil Fuel Giant Equinor Withdraws From Oxford University Career Fair
Image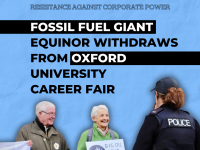 Oxford University holds regular career fairs for students to meet privately with prospective employers. The university also claims to be committed to net zero and to be sustainable. After climate activists Extinction Rebellion announced a protest against fossil fuel giant Equinor for taking part in an Oxford career fair last month the company pulled out in a victory for climate activists.
"Oxford University should not endorse fossil fuels careers which are keeping this industry going. All universities should resist supporting fossil fuel corporations which amount to letting them get away with wrecking the students' futures." - Ruby Finn, activist from Extinction Rebellion Oxford. 
Equinor
Fossil fuel giant Equinor (previously named Statoil) is majority-owned by the Norwegian state. Other shareholders include investment funds like BlackRock and Vanguard. Despite claims that Equinor is transitioning to renewables, fossil fuels make up over 95 percent of company production. It lobbies against European Union regulations and funds trade associations fighting climate action.
Rosebank
Equinor owns an 80 percent stake in the newly approved Rosebank oil field in the North Sea. Rosebank contains some 500 million barrels of oil which – if burnt for fuel - will produce 200 million tons of carbon dioxide. The company has been promised a £3.75 billion (US$4.6 billion) tax cut by the UK government, despite making £62 billion in profits in 2022.
"Our government is too cosy with Big Oil. Instead of investing in schools, hospitals and green energy, they are pouring billions into the pockets of oil giant Equinor. Developing this enormous oilfield will do nothing but reinforce dependence on dirty fossil fuels, drive fuel poverty, and accelerate the climate crisis." - Joanna Warrington, spokesperson for Fossil Free London. 
Oxford's Fossil Fuel Ties
Fossil fuel companies donate large sums of money to major universities for research, scholarships and to burnish company reputations. Oxford University got £1.6 million in funding from oil and gas companies between 2020 and 2021 and £1.2 million in 2022. The Oxford Climate Justice Campaign found that Equinor had paid for PhD students as well as sustainability research. 
Student Campaigns
The student-led Oxford Climate Justice Campaign has been campaigning for the university to sever all ties with the fossil fuel industry since 2013, including refusing corporate donations and divesting from fossil fuel company stock. In 2020, the university agreed to sell the £3 billion in fossil fuel stock that it owned. 
Fossil Free Careers
In August 2022, Fossil Free Careers and the Oxford Climate Justice Campaign successfully convinced the Oxford Student Council to demand that the university's career services cut ties with fossil fuel companies. Nevertheless, the university invited Equinor to an October 14 career fair. After activist group Extinction Rebellion announced a die-in protest on campus, Equinor announced it would not attend. 
"We acknowledge there is public debate about our Rosebank oil and gas field in the UK, and we respect the differing views. Nevertheless, we believe there are sound and rational reasons for developing Rosebank. This project is part of our contribution to energy security, creating jobs for Britain, and reducing CO2 emissions overall. It's all part of the broader energy picture."
This is #66 in our series of Instagram infographics on resistance against corporate power.
Click here to see the full post on Instagram.
📸 Feng Ho