Fossil Fuel Company Santos Withdraws From Sponsoring Darwin Festival Under Pressure From Artists and First Nations Peoples
Image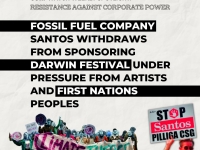 For almost 30 years, oil and gas giant Santos has sponsored the annual multicultural arts festival in Darwin, Northern Territory. After a group of artists, First Nations representatives and philanthropists offered A$200,000 for the festival to cancel the sponsorship in 2023, the company agreed to withdraw. 
"Sponsorship of community events by tobacco companies was once okay but has become unacceptable. The same has happened with fossil fuel sponsorship and festivals and institutions here and overseas are waving it goodbye." – Sue McKinnon, director of the McKinnon Family Foundation.
Drilling for oil
Santos is a major oil and gas producer, based in Adelaide, South Australia. In recent years, it has come under fire over plans for the A$4.7 billion (US$3.6 billion) Barossa offshore gas project to drill for oil in the Timor Sea, off the coast of the city of Darwin and 140 kilometers north of the Tiwi Islands, which is home to the Tunuvivi aboriginal peoples.
Beach court hearing
Tiwi Indigenous leader Dennis Tipakalippa challenged the drilling plans in court in June 2022. The court agreed to an unprecedented court hearing on a beach of Melville Island at the Pitjimirra homeland in August, at which they were welcomed in a traditional smoking ceremony led by Munupi elder Pirrawayingi Puruntatameri.
"When someone drills underground or in the sea and it's close to the proximity of your land, or your boundary in whitefella way — in our way, spiritually, they are drilling a hole in our body." – Pirrawayingi, Tiwi islander
Artwashing
At about the same time that Tipakalippa filed his lawsuit, First Nation groups together with festival artists, sent an open letter and a petition of 200 signatures to the Darwin Festival board, calling on the festival to drop the Santos sponsorship, arguing that company advertisements amounted to "artwashing" – using art to clean up its public image while still planning on causing environmental damage. 
Santos defeated
In September, Federal Court judge Justice Mordecai Bromberg ruled that Santos had failed to properly consult with all relevant parties, as required by law, and ordered the National Offshore Petroleum Safety and Environmental Management Authority to suspend the oil drilling permit.
$200,000 funding deal
On October 18, a coalition called the Fossil Free Arts NT (Northern Territories), including the Ethinvest Foundation, the Graeme Wood Foundation, the Lenko Family Foundation, the McKinnon Family Foundation and the Oranges & Sardines Foundation, made an offer to donate A$200,000 to the Darwin Festival over two years if the festival directors canceled the Santos sponsorship.
Santos response to festival opposition
"As we understand it, the board now has alternative sponsorship options for the Darwin Festival, which has not been the case in previous years. As such, Santos advises that it will not be seeking to renew or extend the sponsorship contract beyond the current term, which expires on 31 December 2022."
This is #25 in our series of Instagram infographics on resistance against corporate power.
Click here to see the full post on Instagram.