Former Pentagon Generals in Afghan War Make Top Dollar Advising Military Contractors
Image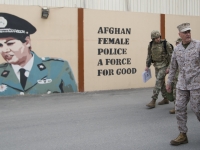 Many of the military generals who directed the war in Afghanistan over the last two decades have taken up lucrative jobs as members of the boards of directors of major military contractors that take in billions of dollars in contracts from the Pentagon every year.
Take General Joseph Dunford Jr., who was in charge of the International Security Assistance Force and U.S. Forces Afghanistan. Back in 2012, Dunford testified in the U.S. Congress that he was very optimistic about the situation in Afghanistan. "When I look at the Afghan national security forces and where they were in 2008, when I first observed them, and where they are today in 2012, it's a dramatic improvement," he said.
He was rewarded by President Barack Obama with the job of the chairman of the Joint Chiefs of Staff from 2015 where he served until his retirement in September 2019. Six months after he retired, Dunford joined the board of Lockheed Martin, the biggest military contractor in the U.S. and was asked to lead a bipartisan panel charged by the U.S. Congress to examine the February 2020 peace agreement with the Taliban.
"It's not in anyone's best interest right now for precipitous withdrawal from Afghanistan," Dunford concluded in May 2021.
Certainly it was not in the interests of Lockheed Martin which was awarded $74.2 billion in U.S. government contracts in 2020 alone, mostly from the Pentagon. Nor was it for Dunford who is paid over $300,000 a year by Lockheed to attend occasional board meetings. (In his previous job as chairman of the Joint Chiefs of Staff, he was paid just shy of $190,000 a year.)
Or take General James Mattis, who effectively took a leave of absence from the board of directors of General Dynamics to serve as Secretary of Defense from January 2017 to January 2019 under President Donald Trump. He assured the Washington Post that the U.S. military efforts were succeeding.
"The Taliban's goal is to take over this country and they've been stopped in that at great cost to the Afghan people, at great cost to the Afghan army," Mattis said in 2019. "If you read [the articles], you'd almost think it's a total disaster, and it's not that at all. It's been hard as hell but it's not just one undistinguished defeat after another. They [the Taliban] are the ones on the back foot."
Mattis is now paid $127,458 to serve on the board of General Dynamics, which received $22.6 billion in U.S. government contracts in 2020.
Then there is General Mark Welsh III, a former Air Force Chief of Staff, who played a major role in growing the drone pilot program as well as in directing air strikes in Afghanistan. He was elected to the board of Northrop Grumman in 2016 just after he retired, where he was paid $299,261 a year, more than double what he would make if had kept his Air Force job. Northrop Grumman was awarded $12.7 billion in U.S. government contracts in 2020.
Another former four star general, Jack Keane, who has been making the rounds to condemn the U.S. withdrawal from Afghanistan, was a member of the Defense Policy Board Advisory Committee that advised President George Bush on the invasion of Iraq. Today he is a national security analyst on Fox News where he stated that Biden "made a terrible mistake in pulling our troops out and giving the Taliban the opportunity to take the country over." Keane is a former board member at General Dynamics where he was paid $257,884 in 2016, and is now the chairman of AM General, the company that makes military Humvees.
Other members of top military contractors include General Bruce Carlson, a retired Air Force general, who now serves on the board of both Lockheed & L3 Harris Technologies, and Admiral James Winnefeld Jr., the former vice chairman of the Joint Chiefs of Staff who directed the operation to bomb Afghanistan in October 2001 from the USS Enterprise. Today Winnefeld serves on the board of Raytheon where he is paid $292,446. His employer received $27.4 billion in U.S. government contracts in 2020.