Europe's Highest Court Bans Bee Killing Neonicotinoid Pesticides, Made Mostly by Bayer
Image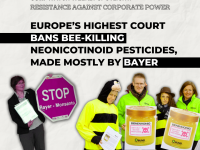 The European Court of Justice ruled in favor of a Belgian beekeper, Nature & Progrès Belgium and Pesticide Action Network (PAN) Europe to close a loophole that allowed companies like Bayer to produce and sell neonicotinoids – pesticides that kill bees and other pollinators – in Europe despite a 2013 ban.
"This verdict is a reminder that administrations and politicians are bound to the law, not to the interests of the pesticide industry, or industrial agricultural lobbies." - Martin Dermine, PAN Europe executive director 
What are neonicotinoids?
Neonicotinoids are insecticides derived from nicotine. They were developed by agrochemical giant Bayer in the 1980s, which makes imidacloprid and clothianidin. Another major manufacturer is Syngenta which makes thiamethoxam. Together they sell some €3 billion of neonicotinoids a year (a quarter of the global pesticide market) to be used on about 140 different crops.
How are neonicotinoids harmful?
Neonicotinoids affect the central nervous system of insects causing excitation of the nerves, leading to eventual paralysis and death. It affects bees which are one of the critical pollinators for many important food crops like apples, blueberries, pumpkins, and watermelon.
Temporary Bans
In 2006, beekeepers announced puzzling collapses of entire bee colonies. After the European Food Safety Agency concluded that clothianidin, imidacloprid and thiamethoxam posed a 'high acute risk' to honey bees and an "uncertain risk to wild bees" the European Union imposed a temporary ban on these pesticides which was turned into a permanent ban in 2018.
"Pollination is one of these invisible, but invaluable services. If we don't address the reasons behind the decline in wild pollinators, and act urgently to stop it, we and our future generations will pay a very heavy price." - Virginijus Sinkevičius, European Union Commissioner for the Environment, Oceans and Fisheries
The Loophole
Industry quickly worked with national regulators to issue temporary stay orders that allow for outdoor use of these chemicals in case of emergencies.  Over 100 such loopholes were issued over the last three years.
Bayer Appeal
Bayer appealed to the European Court of Justice to overturn the 2018 ban. In May 2021, the court denied the Bayer appeal. In January 2022, the court further ruled that member states must stop allowing emergency authorizations of the use of neonicotinoids.
Company Response 
"It's designed not to be safe to the environment. It's designed to interfere with the environment, whatever the label instructions." – Klaus Kunz, Bayer's head of environmental, social, and governance strategy
This is #34 in our series of Instagram infographics on resistance against corporate power.
Click here to see the full post on Instagram.