Environmental Groups Defeat Palm Oil Giant Korindo's Attempt to Silence Them
Image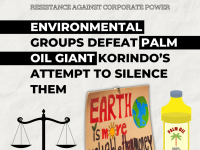 Palm oil and timber giant Korindo sued Mighty Earth and Rettet den Regenwald, environmental groups based in Washington DC and Hamburg, Germany, respectively, for publicly criticizing the companies' deforestation of West Papua, Indonesia. When the court indicated that it would rule in favor of the NGOs this past February, Korindo agreed to drop the lawsuit.
"For three years, this lawsuit kept us busy and wasted valuable time. It was a David versus Goliath battle. We see this as an abusive lawsuit intended to intimidate us and have a chilling effect on other organizations. It speaks volumes that Korindo was not able to enforce any of its demands." – Bettina Behrend, first chair of Rettet den Regenwald
Korindo Group
Korindo, a major timber and palm oil company based in Jakarta, Indonesia, has cleared over 50,000 hectares of forest in West Papua and North Maluku, Indonesia, to make way for palm oil plantations. "Burning Paradise," a 2016 report researched by Mighty Earth, says that Korindo cleared much of the forest by burning it, contributing heavily to Indonesia's air pollution crisis in 2015.
Protest Campaigns 
Mighty Earth and Rettet den Regenwald followed up after the report by filing a complaint against the company with the Forest Stewardship Council (FSC), a global green certification body. The NGOs also attempted to convince company clients like Gamesa, Nordex SE and Siemens in Germany to stop doing business with Korindo.
SLAPP Suits
In an attempt to stop the NGOs, Kenertec, a Korindo subsidiary that makes wind turbines, sued Mighty Earth and Rettet den Regenwald for defamation in the district court of Hamburg in 2019. Such lawsuits are a common tactic by companies to intimidate and silence critics – they are called Strategic Lawsuits Against Public Participation (or SLAPP suits).
Evidence Mounts
Soon after the lawsuit was filed, multiple investigations by others such as the BBC, Greenpeace and Forensic Architecture confirmed that Korindo was engaged in deliberate deforestation in West Papua. Another investigation implicated Korindo in the payment of bribes to win the forest concessions in West Papua.
Victory for Environmentalists
In July 2021, the FSC revoked Korindo's membership. Kenertec continued to pursue the SLAPP suits but after the judge in Hamburg informed the company that they would lose the lawsuit and advised both parties to settle out of court, Korindo agreed to withdraw its complaint.
"If Korindo is serious about improving its environmental and human rights performance, it needs to restore the forest habitat it destroyed, pay restitution to affected Papuan Indigenous communities and stop its legal harassment of civil society groups who have tried to stand up to its abuses." – Hye Lyn Kim, campaigner with the Korea Federation for Environmental Movements
Company Response
"Each party has mutually accepted the settlement proposed by the Court and ended the case, without prejudice to each party and their legal standing." – Korindo Group management
This is #39 in our series of Instagram infographics on resistance against corporate power.
Click here to see the full post on Instagram.