Environmental Groups Defeat Logging Company Resolute's Effort to Silence Activism
Image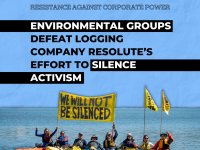 Environmental groups Forest Ethics (now named Stand.Earth) and Greenpeace were sued by logging company Resolute Forestry Products for criticizing the impact of the company's boreal forest logging on dwindling woodland caribou herds. A California judge tossed out the C$100 million lawsuit after a seven-year court battle.
"We will not be bullied into silence by corporations. Today's decision is a huge win for free speech, but more must be done to ensure that corporations can't abuse the legal system." – Deepa Padmanabha, deputy general counsel of Greenpeace USA
Resolute Forestry Products
Resolute Forestry Products, which is based in Montreal, Canada, is the largest logging company in the country, with a revenue of US$3.7 billion in 2021. It harvests wood in the boreal forests of Ontario and Québec as well as in the U.S., which it turns into paper, tissue and wood products.
Boreal Forests 
Boreal forests – the forests of the Northern hemisphere – are one of the world's largest storehouses of carbon. They are also home to woodland caribou, a subspecies of reindeer. The caribou herds of Ontario and Québec are endangered – and a number of companies have agreed to stop logging in their habitat but Resolute refused to join them.
SLAPP Suit
In 2013, Forest Ethics and Greenpeace spoke out against Resolute Forestry Products logging practices and the company initially sued them for US$7 million in California for defamation. This lawsuit – which attempts to silence activist speech - is a textbook example of what is known as a Strategic Lawsuit Against Public Participation or a SLAPP suit.
Intimidation
Amy Moas, a Greenpeace senior forest campaigner who was named in the lawsuit, said that Resolute lawyers questioned her for over 16 hours to try to prove that the organization acted with 'malice.'
Another Lawsuit
In May 2016, Resolute Forest Products filed a second lawsuit against the environmental groups for C$300 million under U.S. anti-racketeering laws. U.S. District Judge Jon Tigar dismissed the lawsuit in October 2017 but allowed Resolute to file again. In April 2023, Tigar threw out the amended lawsuit, after having awarded Greenpeace over US$800,000 in lawyer's fees.
"Corporate SLAPP attacks are a threat to the very idea of citizen activism and free speech. Their goal is to harass and chill speech that might threaten its activities or expose wrongdoing — just like Resolute's attack against Greenpeace." – Paul Paz y Mino, associate director of Amazon Watch
Company Response
"Our company strives for the highest standards of environmental stewardship, which is why the attacks on us are so obviously cynical and thoroughly irresponsible. We have an obligation to our business ethics, and our many shareholders, customers, partners and stakeholders to draw the line after all other means have been exhausted." - Richard Garneau, Resolute CEO
This is #43 in our series of Instagram infographics on resistance against corporate power.
Click here to see the full post on Instagram.
📸 © Marlena Sloss / Greenpeace