Endesa Accused of "Academic Greenwashing" at Universities in Spain
Image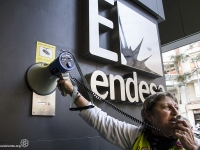 Energy poverty – the lack of access to basic electricity and fuel – became a fashionable topic after the term was coined in the 1990s. So, when Universidad Pontificia Comillas, a university in Madrid, Spain, launched a Department of Energy and Poverty in 2018, it was seen as a bold initiative. 
Universidad Pontificia Comillas has historically been linked to progressive ideas – it was founded in 1890 by Pope Leo XIII, the author of Rerum Novarum (Of New Things) in which the head of the Catholic church spoke eloquently in support of worker's rights, safe working conditions and the need for trade unions, in the first church statement to address the industrial revolution that was transforming Europe.
But the new department at the university has been mired in controversy ever since it held its first interdisciplinary seminar in November 2018 entitled "How to guarantee the supply of vulnerable households" at the Madrid headquarters of Endesa, the Spanish subsidiary of Enel, an energy utility based in Rome, Italy. The location of the talk was especially ironic because Endesa has been accused of being one of the key sources of energy poverty in the country as a result of of the sky-high prices of the electricity that it sells.
In some ways, this is hardly surprising because Endesa is one of the key sponsors of the department, and it has also provided numerous speakers for seminars. For example:
* Isabel Buesa, the director-general of Endesa Catalonia, was listed as a speaker at the November 2018 event.
* José Casas, a director at Endesa, and Isabel Mejía Fernández de Velasco, a deputy director at Endesa, spoke at a January 2020 seminar on "Innovative Proposals for the Fight against Energy Poverty."
* Mónica Diaz-Otero, another senior Endesa employee, spoke at another university seminar on May 6, 2020.
Nor is the Universidad Pontificia Comillas the only university that Endesa supports – it also sponsors the University of Barcelona and Seville University, where it pays for the Department of Energy Sustainability, and for graduate programs in the field of energy, engineering and innovation respectively. Endesa employees are often invited to give seminars on topics like the regulation of electricity distribution, which has a direct impact on their business.
Some say that Endesa (like other fossil fuel companies) is deliberately using these universities to "greenwash" its reputation. "In terms of image, it is very profitable for an electricity company to have a department at a university," Mario Sánchez-Herrero, professor of economics at Universidad Complutense de Madrid, told La Marea, an independent monthly magazine in Spain.
Endesa's tactics on campus are hardly surprising – after all this is the very same company that bought cover page advertisements touting its green credentials in eight major newspapers in Madrid on the first day of the global climate change conference in December 2019.
What makes this funding problematic, say activists, is that Endesa has been identified as one of the key actors behind energy poverty in the city of Barcelona where electricity bills were 44 percent higher in 2021 than in the previous year. "Endesa, Iberdrola, you're robbing the people" was one of the chants made by a group of 1,000 protestors who marched through the Catalan capital in November 2021, months after the company posted a €2.1 billion profit.
Another regional victim of Endesa's power cuts which have affected the health of vulnerable residents - is northern Granada. "Endesa has to understand that we are not animals, we are human beings," Paqui, a citizen of Granada, who helped bring a lawsuit against the company told a recent court hearing of the conditions under which she had to care for her now-deceased husband. "I had to clean his wounds and change his diaper, all with flashlights... there are many people who continue in this situation with babies."
In a rare victory for residents, Endesa was ordered to pay €95,575 to the family of Doña Carmen Isabel in Aroche, Seville, after she died from a fall suffered in the middle of a blackout.
The company has also been accused of strong-arm tactics. La Alianza contra la Pobreza Energética (APE or the Alliance against Energy Poverty) an NGO that was founded in Barcelona, obtained a recording of a phone call made by an employee of DPS Consulting, a debt collection agency under contract to Endesa. In the call, the employee identified herself as a 'state official' (despite the fact that posing as a public servant is illegal in Spain) and threatened to freeze the bank account of a customer named Yolanda if she did not pay her bills within a week's time and to "prosecute" her in court.
In addition, Endesa has been fined millions of euros for misusing privileged customer information; publishing misleading communications to its customers; and changing customer contracts without their consent. It was Spain's second-largest greenhouse gas emitter in 2021 and has been fined millions of Euros on two occasions over its lack of safety maintenance at its Spanish nuclear facilities, which in one case to a serious leak.
Even more insidiously, the Universidad Pontificia Comillas' new Department for Energy and Poverty recently attempted to convince the Spanish government to consult with energy companies to solve the very problems that they have created: in January 2019 it submitted a contribution to a public consultation on the National Strategy to Fight Energy Poverty, in which it recommends the "creation of working groups between social services, energy companies and representatives of users and citizens."
Activists say that these actions prove that the universities have become complicit in the greenwashing. "Given the current state of the climate emergency, none of these departments will bet on degrowth plans, nor global justice nor, the main objective that a public institution should assume: the benefit of society," Andrea Vides de Dios of the Tarragona chapter of Engineers without Borders, told La Marea.