Dalian Ocean Fishing Boats Hunting Sharks To Illegally Harvest Fins, Say Former Deckhands
Image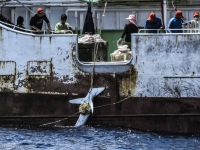 Photographs and interviews with dozens of Indonesian fishermen by the Environmental Justice Foundation, a UK based investigative NGO, and Mongabay have revealed that Dalian Ocean Fishing is using banned equipment to harvest shark fins, in violation of international law.
Dalian Ocean Fishing, which is based in Liaoning province, China, owns some 33 fishing vessels that use longline and ultra-low refrigeration technology to harvest ocean fish, notably sashimi-grade tuna destined primarily for the Japanese market. The biggest shareholder in the company is Li Zhenyu from the city of Dalian, who owns 41 percent of the company.
"The first year it was more of a side thing: the shark lines were just on the buoys. The second year it was exclusive: the hooks, the lines, everything was for sharks," Adhi Tayuh Braka, a fisherman from Semarang, Indonesia, who worked for Dalian from 2018 to 2021, told Mongabay. "There was no end to it," Didit Wijanarko, another former Dalian worker, told Mongabay. "[The boat] was completely full of shark, so that the boat stank of shark."
Shark fishing has become a serious problem with an estimated 100 million shark killed every year, including a number of endangered species like the scalloped hammerhead shark, shortfin mako sharks and white sharks. "The top threat to sharks and their relatives, by far, is unsustainable overfishing, which includes, but is not limited to, shark finning," David Shiffman, an interdisciplinary marine conservation biologist who studies threats to sharks, wrote in Scientific American magazine recently.
But catching shark exclusively for the fins and dumping the rest of the carcass overboard is illegal, under international law. Given that the fins are by far the most valuable part of the catch – and can fetch prices as high as $1,100 a kilogram - fishing boats often break the rules. (Shark fins are the key ingredient in a special soup that is popular in countries like Hong Kong, Singapore and Taiwan.)
The fishermen interviewed by Environmental Justice Foundation and Mongabay described how Dalian Ocean Fishing's boats deployed special shark lines and wire leaders to catch the sharks, which is part of a practice that is banned in the western Pacific.
Based on the interviews with former deckhands, Mongabay worked out that five Dalian boats alone collectively harvested around 5.1 metric tons of dried shark fins in 2019, equivalent to 843 metric tons of whole shark or 31,000 individual sharks. This is greater than the official catch (735 metric tons) reported for the entire fishing fleet of China. Yet these five vessels are just a small percentage of the company's fleet – which includes 24 boats in the western Pacific, seven in the Atlantic and four in the Indian Ocean.
"I was scared of getting caught," Tulus Martin, a former Dalian worker who lives in West Java told Mongabay. "Because I heard that if there was a shark finning operation, it's the deckhands who know nothing who are targeted."
The danger that the deckhands face is considerable – mostly because of the abusive working conditions on the boats. Four Indonesian men who worked on Dalian's Long Xing 629 vessel, died between December 2019 and April 2020. "Nobody could stand it on the Long Xing 629, and we wanted to go home," Rizky Fauzan, a former member of the Long Xing 629 crew told Jansa, a Japanese investigative news outlet. "Everyone said, 'If this weren't water, I'd run away.'"
"In an effort to keep profits up amid declining fish populations, unscrupulous operators are resorting to human rights abuses and denying crew basic medical care," Azizah Hapsari of the Environmental Justice Foundation, told the Guardian newspaper. "This is possible because large parts of the global fishing industry operate in the shadows, away from government and public scrutiny.
The company has failed to respond to Mongabay requests for comments about the allegations of shark finning.
Dalian is by far from the only company to be accused of mistreating their workers. Sajo Oyang, a fishing company from Seoul, South Korea, has also been accused of horrific abuses, as have Boonlarp Fishing L.P., Jor Monchai L.P. and Wor Wattana Sohpon L.P. from Kantang in Thailand.