Cashing in on Terrorism
Image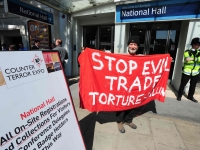 "Is Rioting a Form of Urban Terrorism?" The press release from Clarion Events, a $128 million exhibition company that helps companies sell everything from baby toys to hydro-power equipment in Africa, seized the moment in August 2011, when London saw some of its worst street riots in recent history.



The statement was a provocative introduction, marketing Clarion's newest acquisition: the annual Counter Terror Expo in Olympia, London. This week (April 25 & 26) 8,000 visitors are expected to descend on 400 exhibitions of counter-terrorism technologies and services. This industry accounts for £5 billion ($8 billion) in UK export sales a year from an estimated 9,000 companies.

The expo offers products and services covering-and creating-a diverse market that includes remote operated bomb detectors, mobile biometric fingerprint scanners, flat-packed gas masks and sniffer dog training centers. Among the goods on offer are Pentax's long range zoom lenses, Microwave Amplifiers' airborne surveillance data transmitters, and AON's Olympic risk assessment system.



"Why accept a CCTV (closed circuit television) system when you could opt for a complete intrusion detection network comprising day/night thermal IP surveillance, buried wire sensors, motion detectors and advanced video analytics package?" writes Robert de la Poer in the Counter Terror Expo newsletter, in a rhetorical push to market a variety of wares on offer from exhibitors.


Lack of money might be a reasonable answer, but that isn't true today for many governments. Despite the financial crisis and government budget reductions, the counter-terrorism industry has grown exponentially in the last decade, stimulated by the War on Terror birthed on September 11, 2001. Major government-industry partnerships have been created such as the nearly $1 billion (now defunct) Department of Homeland Security's Secure Border Initiative (SBInet) contract to guard the U.S.-Mexico border awarded to Boeing in 2006. Here in the UK, private security firm G4S was awarded an estimated £100 million ($160 million) contract for the 2012 London Olympic and Paralympic games, an area that falls under the UK's Office for Security and Counter-terrorism.



However, the growth in sales to Western governments is widely expected to slow down in coming years, so the counter-terror industry is now targeting retailers and others.



"(T)he mantra of resilience drummed home to major businesses by government and echoed at Counter Terror Expo, the annual gathering of governmental, security services, law enforcement and military experts, hasn't necessarily filtered down to the many medium and small firms that make up the average high street," reads the August 17 statement from Clarion.



The industry is also starting to expand internationally. Global Security Asia began in 2005 and by 2011 saw over 4,000 visitors with representatives from 13 different national governments. Security Watch India, has been hosting security events since 2009 like its flagship event 'Protecting 1.1 Billion People: Homeland Security in India, the Framework & Business Opportunities." Abu Dhabi's first Counter Terror Expo brand event was launched in 2011.



Like catnip for cats, or junk food to children, the heady combination of money and militarized technologies together with the paranoia created by the decade old War on Terror and now the world of protest and urban unrest, suggests that the counter-terror pushers will be making money for quite a while.


 * This post is adapted from a larger analysis of the Counter Terror Expo and marketing of counter-terrorism technologies forthcoming in the new journal Poster. 


AMP Section Name:
War & Disaster Profiteering