California Fast Food Workers Win $2.2 Million Lawsuit Against Burger King Franchisee
Image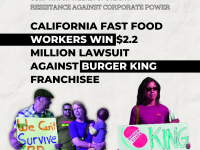 A group of 230 workers in the San Francisco Bay area sued Golden Gate Restaurant Group Inc., a franchisee of Burger King, for forcing them to work off the clock including during their meal and rest breaks. The California Labor Commissioner's Office ordered the company to pay $724,000 in unpaid wages and interest, plus a fine of $1.2 million. 
"I hope this sends a message to other workers: Don't be afraid. If something is wrong and you're being exploited, you can stand up, speak out and win." – Daniel Marini, former employee of Golden Gate Restaurant Group
Burger King Franchisees 
Burger King sells fast food via 18,000 independent franchises around the world that pay for the right to market company products. In the San Francisco Bay Area in Northern California, Golden Gate Restaurant Group, which is owned by Monu Singh and Harkiran Randhawa, operated as many as a dozen outlets between 2010 and 2021, when they finally ceased operations.
Workers' Complaints
Legal Aid at Work and Trabajadores Unidos Workers United filed an official complaint against the franchise owners in March 2019 with the city of San Francisco. Workers testified that they were required to do unpaid work to open restaurants, take unpaid lunch 'breaks' during which they were expected to keep working. They also testified that they did not get paid overtime.
"I worked at the Burger King on Fillmore for seven years where you couldn't take breaks and lunches, [and] you had to clock out and continue working without pay to get the job done. I worked under conditions where one could not take sick leave from work without retaliation." – Adriana Rendon, former Golden Gate Restaurant Group employee
City Investigation
In 2019, the Office of Labor Standards Enforcement for the city of San Francisco interviewed a dozen local workers and came to the conclusion that Golden Gate Restaurant Group was cheating the workers out of their wages and imposed a fine of $1.9 million against the company in June 2020. The company appealed the fine.
Testimony Confirmed
In 2022, the California Labour Commissioner interviewed another 8 former Golden Gate Restaurant Group employees from 5 different locations about their experiences, who confirmed the testimony of previous interviewees.
Complaint Upheld
In December 2022, the California Labour Commissioner ruled in favor of the employees again and increased the total penalties against the company to $2.2 million. In the meantime, Golden Gate Restaurant Group, has shut down all of its restaurants following numerous citations for violation of city health codes. 
Company Response
"Simply put, we contend the ruling is an inaccurate reflection of the evidentiary record. We believe our position will be vindicated on appeal." – Colin P. Calvert, attorney for Golden Gate Restaurant Group.
This is #33 in our series of Instagram infographics on resistance against corporate power.
Click here to see the full post on Instagram.