The British Museum Cuts Sponsorship Ties With Fossil Fuel Giant BP After 27 Years
Image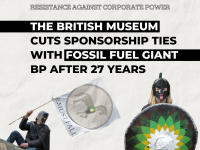 Fossil fuel giant BP has provided millions to sponsor the British Museum since 1996. Protests by activists from organizations like Culture Unstained, Extinction Rebellion and Greenpeace has cast this relationship in an unfavorable light. Internal memos uncovered by the media suggest that this sponsorship will not be renewed at the end of 2023.
"Creative protest, people power and solidarity have turned the tide. The fossil fuel industry is rapidly running out of places to hide its climate crimes, as it continues to put pollution and profit before people and the planet." – Lydia Hiraide, member of BP or not BP.
Cozy ties
Fossil fuel giant British Petroleum (now known as BP) has been sponsoring the 270-year-old British Museum in London, UK, since 1996. It has paid for several exhibitions on ancient kingdoms from places like Assyria, Troy and Siberian warriors, as well as lectures in a theatre that bears the company name. Over 5 million people are estimated to have viewed BP-sponsored art. 
What's the problem?
Environmental activists such as Culture Unstained called on the British Museum to stop giving BP a positive platform to whitewash its record of environmental disasters such as the explosion of BP's Deepwater Horizon drilling rig in 2010 which caused the largest oil spill in history and a 2005 explosion at its Texas City refinery that killed 15. 
"BP's sponsorship of the arts has never been about philanthropy: It was a cynical strategy to artwash its toxic reputation and advance its business while reaping record-breaking profits from advancing climate breakdown." – Sarah Waldron, co-director of campaign group Culture Unstained.
Art world shake-up
Across the art world, museums have come under pressure to stop taking money from corporate sponsors. In the UK, the National Portrait Gallery, Royal Opera House, Royal Shakespeare Company, Scottish Ballet and the Tate Galleries cut ties with BP and other companies like Shell, leaving the British Museum among the last to accept money from major fossil fuel giants.
Victory
BP's most recent sponsorship expired in February 2023. In a memo obtained by Culture Unstained's lawyers, the British Museum agreed to allow BP to exercise its "supporter benefits" such as the use of the museum's spaces for corporate entertaining until end of 2023.
"We have not ended our partnership with BP. BP is a valued long term supporter of the Museum and our current partnership runs until this year. In times of reduced public funding, corporate sponsors like BP allow us to fulfil our mission to deliver unique learning experiences to our visitors."
📸 © Jiri Rezac/Greenpeace, XR Photography and Steve Eason/Flickr
This is #49 in our series of Instagram infographics on resistance against corporate power.
Click here to see the full post on Instagram.