Boeing Forced to Move Headquarters out of Chicago, on Victory for Antiwar Activists
Image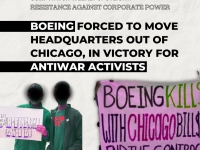 In May 2022, Boeing announced it would be moving its headquarters out of Chicago after a city investigation and a successful direct-action campaign organized by "Boeing Arms Genocide," a Black-led, youth activist group. Just weeks prior, the organizers also succeeded in blocking the company from getting a $2 million tax break from the city.
55% of Boeing's revenue comes from weapons sales.
97 Yemenis killed in 2016 Saudi-led coalition bombing that used Boeing weapons guidance systems to ensure the missile hit their targets
$21.33 billion was paid by U.S. taxpayers to Boeing through government contracts in 2020 alone
17 contracts worth $1.4 billion were held between Boeing and U.S. Customs and Border Protection between 2006 and 2019
$60 million in tax breaks reaped by Boeing from the city of Chicago
"Boeing is primarily in the business of profiting from war and militarism, not airplanes." - Asha Ransby-Sporn & Debbie Southorn, anti-militarist organizers in Chicago
Boeing's global business
Boeing has profited from several million-dollar contracts with the U.S. government to militarize the U.S.-Mexico border. Boeing also sells weapons to India, Israel, the Philippines and Saudi Arabia, each of whom are actively using the company's products in brutal ongoing wars and occupations.
Tax breaks
In 2001, Boeing agreed to move its corporate headquarters from Seattle to Chicago for a $60 million tax break over 20 years from the city and the state of Illinois in exchange for a promise to maintain 500 jobs in Chicago, that the company promised would generate five times as many jobs.
But in 2020 Boeing started to get push back when an analysis revealed that Boeing had failed to create the jobs they promised.
Protests
In May 2021, youth activists blocked traffic to and from Boeing's corporate headquarters and hung a large banner reading "Boeing Arms Genocide" over the Chicago River. The protest came after the Biden administration approved the sale of $735 million in weapons to Israel.
"Israel is not defending itself against Palestinians — Israel uses Boeing's weapons to commit ethnic cleansing, which is against the Arms Export Control Act." – Code Pink
Contract canceled
In late 2021, Maria Hadden, a local city politician, and a reporter for the Chicago Sun-Times started to ask questions about whether the contract with Boeing would be extended, and quickly won a promise from city officials to cancel the arrangement in early 2022.
In May 2022, Boeing decided to relocate to Arlington, Virginia, a couple of miles from the Pentagon.
This is #15 in our series of Instagram infographics on resistance against corporate power.
Click here to see the full post on Instagram.