Blackouts Worsen & Prices Skyrocket Following Privatization of Puerto Rico's Power Grid
Image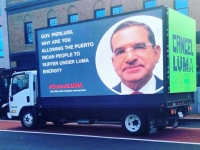 When Hurricane Fiona, a Category One storm, hit Puerto Rico last September, all three million people on the island were plunged into darkness. Members of the U.S. Congress questioned why LUMA Energy, the company that was awarded the power system management contract in 2020, was unable to cope.
"Ongoing outages and the complete disruption of power following Hurricane Fiona amplify concerns that LUMA has failed to adequately develop and maintain crucial electrical infrastructure in Puerto Rico despite its lucrative 15-year contract," wrote members of the U.S. House Energy and Commerce Committee in a letter to Wayne Stensby, president of LUMA.
Territory or Colony?
Puerto Rico occupies an unusual status that is neither legally inside nor outside the United States, ever since it was seized from Spain in 1898. Like American Samoa, Guam, the Northern Mariana Islands, and the U.S. Virgin Islands, Puerto Rico is labeled a 'territory.' (Alaska and Hawaii were also territories before they were granted statehood in 1959.)
Citizens of all five territories can work in the U.S. but they cannot vote in U.S. presidential elections, do not pay federal taxes nor do they enjoy full federal benefits. The elected representatives of these territories in the U.S. Congress have no voting power which means that they are subject to laws that they cannot change.
José Trías Monge, a former chief justice of Puerto Rico who helped draw up the rules that govern the ties between Puerto Rico and the United States, later denounced the system in a 1997 book in which he called the island the "oldest colony in the world."
Puerto Ricans have voted multiple times on the question of whether they wanted to become a full U.S. state or seek independence, but the results (which were mixed) have largely been ignored by Washington DC.
Many are unhappy with the situation. "Time's up on pondering the political and economic consequences of Puerto Rican statehood, let alone being opposed to it," Christina Ponsa-Krau, a law professor at Columbia University and a citizen of Puerto Rico, wrote in the New York Times recently. "You don't annex a place, make it your colony for nearly a century and a quarter, and then reject its people's vote for statehood."
While the publicly owned Puerto Rico Electric Power Authority (PREPA) is still in charge of power generation, the distribution and delivery of the Caribbean island's power was privatized in 2020 after PREPA declared bankruptcy with $9 billion in debt in 2017, the largest sum owed by any government agency. An initial $1.5 billion contract was awarded to LUMA Energy, a joint venture of Atco in Calgary, Alberta, and Quanta Services of Houston, Texas. The contract was renewed again in late November.
Blackouts were already a feature of life in Puerto Rico which relies on aging power plants that burn expensive fuel imported from the mainland for most of its power generation. In 2016, the entire island lost power because of a fire at a power plant. In September 2017, Hurricane Maria caused major blackouts. LUMA promised to quickly fix these problems with the help of money from the U.S. Federal Emergency Management Agency, as part of a privatization deal imposed by Washington in return for the bailout.
Yet not much has changed. In April 2022, the power system went down again because of another fire at a power plant. LUMA has publicly claimed that there have been 30 percent fewer power outages since it took over but company data published by Puerto Rico's Center for Investigative Journalism shows that LUMA is doing a worse job than its predecessors in bringing back power.
Despite this, the company confidently announced to the Associated Press news agency, that it was ready for the 2022 hurricane season. "The system is fragile, no one is denying that, but we're prepared," Kevin Acevedo, a vice president of Luma, told the Associated Press, in the aftermath of the April blackout.
Cathy Kunkel, energy program manager for the nonprofit group Cambio Puerto Rico, told the Washington Post that the reason that LUMA failed to deliver was that only a minority of the workers hired by the company actually had any experience with the power system. "People just said, the public system failed so let's make it private and that will fix it. But it was not thought out," she told the newspaper.
"Only a small group of my colleagues decided to work for them. Several of them have since resigned," Angel Figueroa Jaramillo, president of UTIER, the union that represents PREPA workers, told the Post. (Many of the former public sector workers chose to take jobs with other agencies because LUMA's new work contracts did not offer pension benefits and different health plans) ]
Today Puerto Ricans are fed up. A couple of weeks before Hurricane Fiona hit, protestors took to the streets of San Juan, the capital city, chanting "Fuera, LUMA" ("LUMA, get out") to the rhythm of drums and the banging of pots.
And a couple of months prior, crowds attending a concert by Puerto Rican rapper Bad Bunny erupted in cheers when he announced: "LUMA pal carajo. (Go to hell). It's messed up that I do tours all over the world… The only place where I have to use about 15 industrial generators when I'm going to perform is here, because I can't trust Puerto Rico's electrical system."
Water Privatization
Puerto Rico's power distribution system was privatized at the behest of the Financial Oversight and Management Board (FOMB) — a body created by the U.S. Congress in 2016 to manage Puerto Rico's $72 billion debt.
Yet a simple review of Puerto Rico's own history of utility privatization would have illustrated the folly of this approach: after all, two different private companies – Ondeo and Veolia – were paid billions to manage the island's water system from 1995 to 2004, both of which ended in failure.
But locals aren't just angry about blackouts – a major complaint is about LUMA Energy's skyrocketing bills. Customers now pay approximately 33.4 cents per kilowatt hour in Puerto Rico, compared to an average of 12.9 cents on the U.S. mainland. This is double what they paid two years ago, according to an analysis by the Institute for Energy Economics and Financial Analysis, a non-profit in Texas. Indeed, Puerto Ricans now spend an average of 8 percent of their income on electricity, a little more than three times more than the average U.S. citizen.
"To increase bills when you don't provide a perfect service ... the level of impunity is absurd," Luisa Rosado, a mother of two who lives in San Juan, told the Associated Press.
Indeed, these power outages have had a catastrophic impact on the essential services like water delivery and healthcare which requires continuous power to keep medicines refrigerated. Some 25 deaths have been attributed to Hurricane Fiona by Puerto Rico's health department.
A great deal of anger has been directed at Stensby, who earns $1.1 million a year. He was briefly labeled a fugitive by local lawmakers in November 2021 after he refused to turn over documents related to the company to investigators. (After Pedro Pierluisi Urrutia, the governor of Puerto Rico, called for Stensby to be fired, Quanta Services announced that an internal investigation would be conducted).