200 Cambodian Families Compensated for Land Seized to Grow Sugar for Tate & Lyle
Image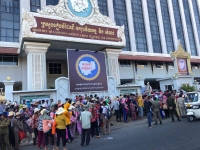 Village land in Chikor Leu commune, Koh Kong province, Cambodia, was forcibly seized in 2006 to give to local companies to grow sugar for conglomerate Tate & Lyle. The former residents sued Tate & Lyle in the UK. In April 2023, the NGO Equitable Cambodia announced that 200 families were compensated for the land and the human rights abuse, although details were not disclosed.
"I'm very happy and surprised. We have been waiting for a long time. Many times, the company promised to pay money in the past, but it never happened, so I can't believe it's not a dream. I have also been able to support my children's further education." – Nuoch Miin, former resident of Chikor Leu commune
Sweet Deal
Two Cambodian sugar companies: Koh Kong Plantation Co. Ltd. and Koh Kong Sugar Co. Ltd., (both operated by KSL Group based in Bangkok, Thailand) were awarded concessions to 19,100 hectares of private land in Koh Kong province in August 2006. In 2009, KSL was awarded a contract to supply sugar to food beverage conglomerate Tate & Lyle based in London, the UK. 
Land Grabbing
In 2006, the Cambodian military forcibly evicted some 4,000 villagers who lived in the Chikor Leu commune – whose land fell inside the concessions – to make way for the sugar plantations. No compensation was paid despite laws that require the government to pay "fair and just compensation in advance" for expropriated land.
Human Rights Abuses
Chikor Leu villagers claim say that during the 2006 land grab the military set fire to their homes, stole or destroyed some 60 buffalo and cows. Several villagers say they were injured including two from gun shots. One local activist was murdered.
Lawsuit
In February 2007, the displaced Chikor Leu villagers sued Koh Kong Plantation and Koh Kong Sugar to get the concessions nullified with no success. In 2013, two big law firms: Jones Day and Rees Broome sued Tate & Lyle on behalf of 200 families in the UK's high court. The lawyers argued that the families "were the owners of [the land and thus] were legally entitled to possession of the raw sugar."
Clean Sugar Campaign
In 2013, KSL Group offered the 200 families 1.5 hectares of land each. Community leaders rejected the deal and continued to fight for just compensation. Human rights monitoring groups and Cambodian activists joined together in a campaign named the Clean Sugar Campaign to call for an international boycott of Tate & Lyle.
Victory
In late 2022, the NGO Equitable Cambodia and the local Koh Kong government helped the 200 families come to an out-of-court agreement for undisclosed additional financial payments. (One villager told the media she was paid around US$6,000.) In addition, 71 child workers who worked at the Koh Kong sugar processing factory were also paid an undisclosed sum. 
Company Response
"We have been pleased to work with the stakeholders to support the affected families and to bring an end to this long-standing and important issue." - Tate & Lyle Sugars spokesperson 
📸 Equitable Cambodia
This is #48 in our series of Instagram infographics on resistance against corporate power.
Click here to see the full post on Instagram.